HEY BIG SPENDER
In all the years we've been working with car brands, one of the things that has consistently intrigued us is the complexity of the decision-making process involved. The time taken from consideration to purchase; the different media channels involved; the importance of brand versus price, the importance of retail experience versus online information-gathering – these are all questions that need to be answered if marketers are going to be able to exert influence with the right messages at the right time in the right place.
Recently we decided to explore whether the customer journey was equally complicated when approaching other high-value purchases; not the £20k required to splash out on a new car, but other less pricey purchases which nevertheless, require consideration and reflection. It seemed to us, that for most people, spending £500+ was a reasonably significant sum of money, and deciding what to spend it on, and then what brand to buy was worthy of investigation. Real life consideration means that there is often a trade-off which cuts across product and service categories, and is not just limited to brands within a category. We wanted to understand the emotional rollercoaster of the risk/reward journey, and to identify how different customer types might have very different perspectives and needs.
So we embarked on a survey of over 1000 UK consumers who had recently made two product purchases over £500 – to explore their purchase journeys in detail. Respondents had purchased anything from luxury watches to laptops, from designer handbags to high tech TVs, from holidays to health club memberships. We then followed up our quant study with depth interviews to flesh out our findings.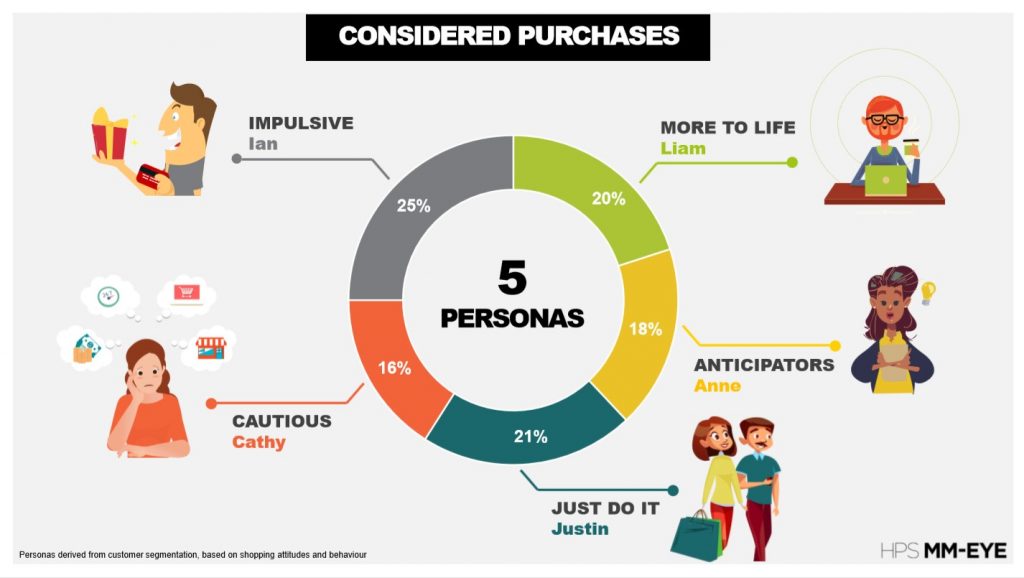 What we discovered was fascinating; we found that there are five customer personality types or "personas" to be found across all product categories, and whose attitudes, behaviour and approach to purchase remains consistent whatever product they're buying – whether that's a tablet or a weekend in Paris. For example, "Brand love" is a key driver for two of the personas, with over 40% of people saying that they love the brand they purchased. However, digging deeper shows that love of the brand influences these two personas in different ways and for different reasons. Another two of the personas stand out for the length of time they take to make their purchases. Whilst these two segments appear similar (a minimum of 69% of each taking more than a week), by understanding the mind set of these two personas, one can see that they are driven by completely different motivations.
We believe that the research provides a great deal of food for thought. Our findings can potentially help marketers connect better with their customers; how to deliver the most pertinent messages that will resonate with them at the correct stage (and channel) in the purchase journey. It's also an opportunity for marketers to evaluate their own customer segmentation alongside a segmentation which takes a broader view of customer purchases.
If you'd like to see a full presentation of our findings contact info@MM-Eye.com.