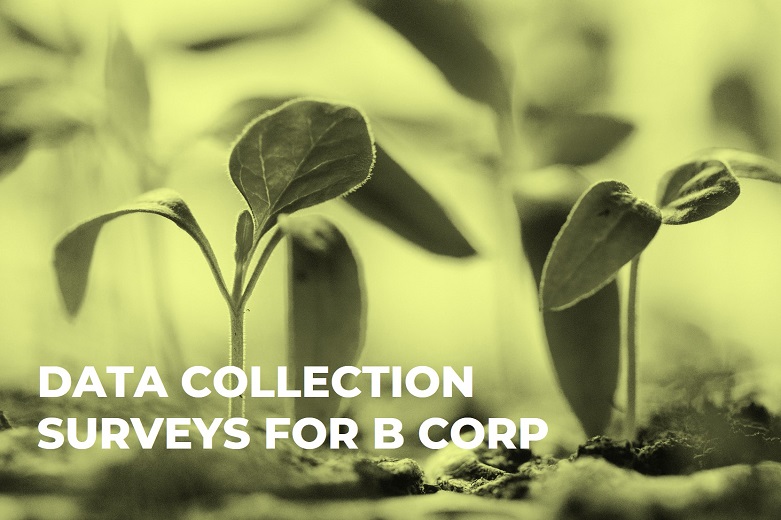 Are you working towards becoming a B Corp Certified organisation?
Need some support gathering the data you need from customers, suppliers and employees?
We have created a set of easy to use automated surveys which can be customised for any organisation to gather evidence needed for their B Corp assessment. All our surveys can be set up to gather respondent data anonymously, which is particularly important where sensitive personal data is gathered.
We submitted our own B Corp application in May 2022 and realised there was scope to simplify and automate the data collection and evidence gathering needed to support our application, particularly as we realised we will need to keep gathering this evidence at least annually to self-certify ourselves.
What is B Corp Certification?
Certified B Corporations, or 'B Corps' are companies who are accredited to have achieved high standards of social and environmental performance, transparency, and accountability. The process to becoming a B Corp Certified company requires meeting targets in five areas: governance, workers, community, environment and customers. Businesses must provide evidence of socially and environmentally responsible practices relating to energy supplies, waste and water use, worker compensation, diversity and corporate transparency. Once B Corp status is reached – certified by B Lab UK for UK businesses – the company must make a legal commitment to maintaining these standards through amendments to its articles of association. There are almost 6,000 companies worldwide and more than 1,000 in the UK that have been accredited as a B Corp. MM-Eye are proud to be working towards becoming a B Corp and to commit to positively impact all stakeholders – workers, communities, customers, and our planet. More information on becoming a B Corp can be found here: https://bcorporation.uk/

Using our skills in creating bespoke market research tools for our clients, we have devised a set of surveys covering all areas of the business where data needs to be gathered for the B Corp Assessment process:
Workers:
Employee satisfaction
Well-being
Diversity & Inclusion
Community:
Supplier data collection on Social & Environmental impact
Landlord and property data collection
Customers:
Client data collection on Social & Environmental impact
Client satisfaction & impact
Where required our surveys can be set up to gather respondent data anonymously, which is of particular importance for the Employee Diversity and Inclusion survey where sensitive personal information is gathered.  This anonymity feature is likely to improve response rates for some surveys and therefore make the data gathered more meaningful.  As a partner company of the Market Research Society we have stringent policies and procedures for how we handle personal data gathered from survey respondents (GDPR) and in particular how we handle information containing Sensitive Personally Identifiable information (SPII).  If you would like to discuss this please get in touch using the enquiry form below.
Here's an example of how one of our surveys looks to the user: Example survey
What we are offering you
A package containing just the surveys you require
The opportunity to add up to 3 additional questions and remove any not relevant in each survey
We customise each survey with your branding, logo and your introductory message
We set up the surveys and send you the links for distribution
You employees / customers / suppliers access the surveys via the links
We collect the data as surveys are completed
We send you an excel file containing the responses
We run the surveys again for you in say 6 months (2 data collections are included in the initial cost)
We can run the same surveys again and again for a nominal fee
Cost effective
If you employ more than 15 staff the cost for set-up and first year of data collection ranges from £250 – £1,250 + VAT depending on the number of surveys you require.
If you employ fewer than 15 people, we charge a reduced fee.
For year 2 onwards we charge £30 per data run per survey.
Would you like to find out more?  Please complete the enquiry form below and we'll be in touch the next business day: