WE ARE A CERTIFIED B CORP!
We were officially certified as a B Corp in September 2023 and are committed to using our business as a force for good, by:
delivering insights for our clients which power positive change
empowering and nurturing our team
supporting our community
respecting our environment
WHAT IS A B CORP?
Certified B Corporations, or 'B Corps' are companies who are accredited to have achieved high standards of social and environmental performance, transparency, and accountability.  B Corps are a rapidly growing global community of 6,000+ organisations committed to using their business as a force for good.  The UK is home to upwards of 1,400 of these companies.
The process to becoming a B Corp Certified company is rigorous and requires meeting targets in five areas: Governance, Workers, Community, Environment and Customers.
Businesses must provide evidence of socially and environmentally responsible practices relating to energy supplies, waste and water use, worker compensation, diversity and corporate transparency.
Once B Corp status is reached – certified by B Lab UK for UK businesses – the company must make a legal commitment to maintaining these standards through amendments to its articles of association.  To remain a B Corp, companies need to keep improving and must recertify every 3 years, demonstrating they have made improvements since last being certified.
More information on becoming a B Corp can be found here: https://bcorporation.uk/
APPLICATION PROCESS
Companies applying to be a B Corp are independently assessed to ensure they meet the standards of social and environmental performance required for certification as a B Corp. The certification process is rigorous – taking up to a year to qualify. The assessment is continually updated and made harder, taking into account the way the world is changing.
As part of our application process we formed a working group looking at all areas of our business and operations, proposing changes to how we work, how we manage ourselves and how we engage with suppliers and clients.  The working group is now a focal point for continual improvement in our business and how we measure up to B Corp's standards, looking forward to our recertification in a few years' time.
OUR SCORE
We are very proud to have achieved an overall impact score of 125.6, well above the minimum score of 80 required to become a B Corp.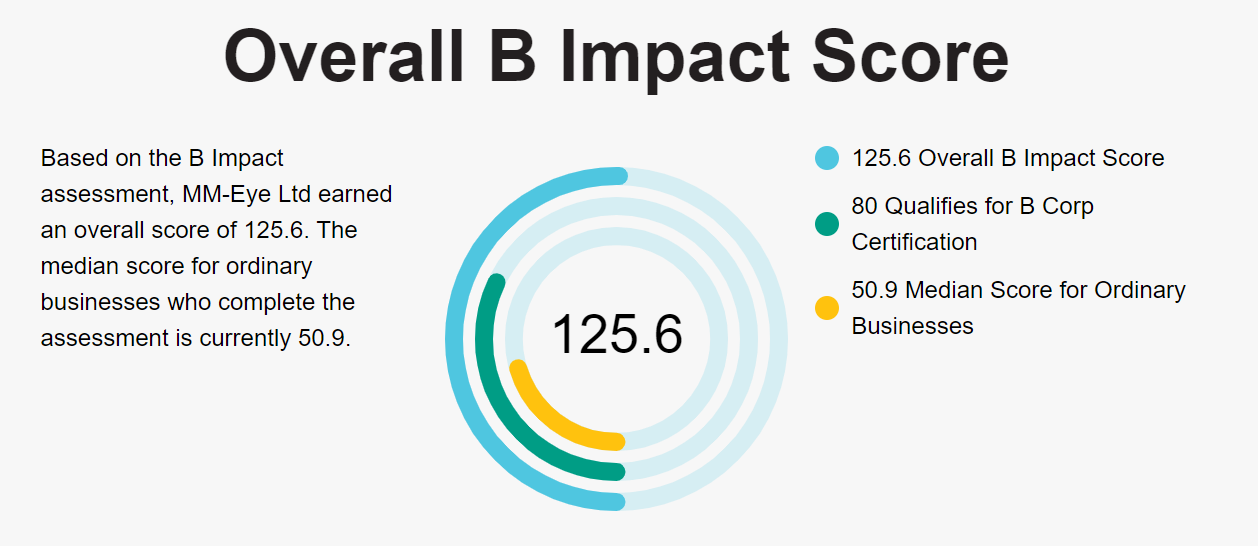 For more details about our score and how it is built up, please visit our page on the B Corp directory: https://www.bcorporation.net/en-us/find-a-b-corp/company/mm-eye-ltd/
WHAT B CORP MEANS TO US
Our B Corp certification is important to us as it underlines to our staff, our clients, our suppliers and our wider stakeholders our moral and legal commitment to balance environmental and social considerations alongside making a fair profit, in all the decisions we make as a business.  Our B Corp certification reinforces our company values of acting with Integrity, being Supporting and being Empowered.
B Corp has given us a framework to bring together all the work we do around our agenda for positive change and has given us some practical tools and ideas for further improvements.
We are also delighted and proud to be recognised members of this growing global supportive community of like-minded, value-driven businesses.